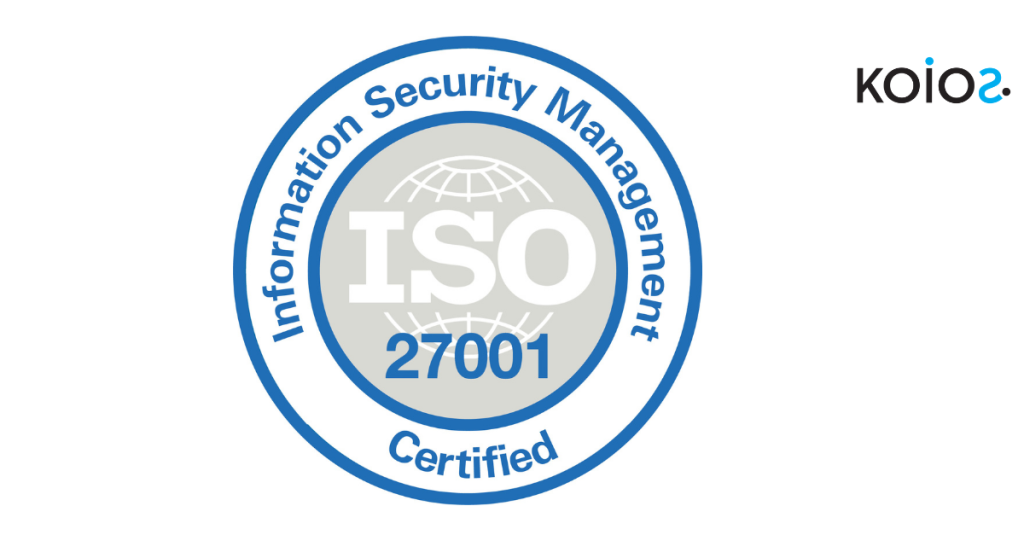 Securing Trust: Koios Achieves ISO 27001 Certification
In a digital era where data is the heartbeat of business operations, safeguarding sensitive information is pivotal. At Koios, we've always prioritized a fortified information security framework, ensuring both our and our clients' data remains shielded from potential threats. Our dedication to robust information security has recently been crowned with the prestigious ISO 27001 certification, a milestone we're incredibly proud of.
A Testament to Our Commitment
The ISO 27001 certification isn't merely a badge of honor; it's a testament to our unwavering commitment towards upholding the highest standards of information security. This globally recognized certification examines the rigor and effectiveness of an organization's Information Security Management System (ISMS), making it a reputable indicator of a company's dedication to safeguarding data.
What Does This Mean for Our Clients?
This achievement translates into numerous benefits for our esteemed clients. Here's a breakdown of what this certification entails:
Enhanced Data Security
The certification is an assurance that we have the requisite mechanisms in place to keep data secure, significantly minimizing the risk of breaches. Our clients can rest easy knowing that their sensitive information is handled with the utmost care and protected against potential threats.
Unwavering Reliability
Our steadfast focus on security transcends into the reliability of our services. Clients can expect stable and uninterrupted services, a crucial aspect that fosters business continuity and a smooth operational flow.
A Competitive Edge
Being ISO 27001 certified places us a notch higher in the industry, showcasing our earnest dedication to adhering to industry best practices. It's about walking the talk, and this certification is a clear indication of our proactive approach to maintaining a solid information security framework.
Handling Confidential Information
Dealing with sensitive and confidential information is a responsibility we take to heart. The ISO 27001 standard is a rigorous approach that underscores our commitment to ensuring that the trust our clients place in us is well-founded. Furthermore, the third-party verification accompanying this certification acts as a vote of confidence from industry experts, affirming that we're on the right track in securing our organization's information.
A Launching Pad for Continuous Improvement
We view this certification not as a destination but as a launching pad for continual improvement in our security posture. Our journey towards enhancing our information security doesn't end here; it's an ongoing endeavor. We're committed to not only maintaining this standard but to striving for even higher levels of security, ensuring we remain deserving of the trust our clients place in us.
In the realm of information security, the ISO 27001 certification is a notable accomplishment, and we at Koios are both honored and motivated by this recognition. It propels us to continue our quest for excellence in securing the digital landscape, ever committed to delivering unparalleled value to our clients.